OUR SERVICES
Small Business Photographer & Google Service Specialist
With the crazy of everyone using their mobile devices to find the nearest whatever, you need to have images and video that can draw potential customers into your establishment. Cellphones do a good job for basic photos, but for low light or mixed light environments, they just cannot compare with a real camera in the hands of a professional.
We will work with you to create new images and or videos that can be used in social media, printed material, online advertising, Google My Business, Google Maps, Google Street View, and more. Do you want a 360 image or video? We can do that too.
NEW - We can even add a short video of your business or commercial property in Google maps! Google is rolling out this new service soon and they have given us a special access.
---
Real Estate Photographer & Commercial Property Photographer
When you are ready to put your property on the market, high-quality photos can make the difference in getting someone to call. You want to grab their interest at the first glance so they will read more about the listing. Blurry cell phone images force the potential client to try and find a reason to read the listing. Make it easy for them to WANT to read the listing - nice clear photos to showcase the best interpretations of the property.
Contact one of our specialists to get a FREE evaluation of your current situation or provide ideas for your next event.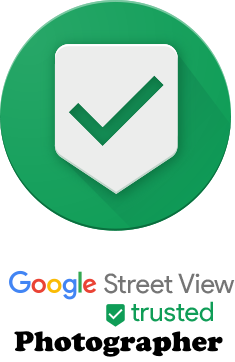 Google Street View
Choosing the right restaurant, cafe or hotel is often tough. Build trust with a high-quality virtual tour that lets people experience your location before they arrive. These immersive, virtual experiences inspire greater confidence among prospective guests and patrons. A trusted professional for hire can help you more easily create and publish your virtual tour.
Google Maps
Plant your flag. When prospective customers seek you out on Google Maps, help ensure that their first encounters are great ones.
Google Hotel
Give travelers a tour of your hotel when they find your property on Google Search or Google Maps.
Google My Business
Google My Business can get your key business information such as hours of operation, phone number, and directions on Google Search and Maps to help you customers find you.
When people search for your business, does your phone number show up? Is the address correct and your website listed? With My Business by Google, the basic information your customer need to contact you are at their finger tips
Google My Business complements your existing website by giving your business a public identity and presence on Google. The information you provide about your business can appear on Google Search, Maps, and Google+.
.
360 IMAGES
Here are some sample 360 photo spheres.
Just click the image and drag around to see more of the scene
Wedding: Julietta Winery
Wedding: Coloma Club
Wedding: Blue Goose
Business: Diner
Business: Auto Parts Store
Business: Event Center
COMMON QUESTIONS
How can we add 360 photos to Google?
How can Google My Business help me?
How can my customers find me on a mobile device?
Are we Google Employees?
Trusted Google Photographers and Google Business Services Specialists are NOT Google Employees. We are a fully independent business entity utilizing Google's services to optimize information about our client's business on the internet.
Will using our service increace placement in Google?
Google will rank images on Google Maps / Google Business / Google Street View irrespective of any contractual or commercial agreement between third parties, including agreements between business owners and photographers or specialists . However, having better photos on Google Maps / Google Business / Google Street View may provide your potential customers with information about your business 24 hours a day, 7 days a week
Who owns the photos?
Our client owns the images and video we take at their paid photo / video sessions. Our customers will own the media, HOWEVER we reserve the right to use their session media for any and all non commercial pursuits.
Are you a Google Local Guide?
Many of our Photographers are a Google Local Guides. Because of this, we can not include updating your business information in Google as our paid service. If you notice your information needs to be updated in Google, just let our Photographers know and they will ask a Google Local Guide to contact you
Who are we?
Our trained Photographers have completed the Trusted Google Photographer program and are listed on the Google
webite
as trusted pros. We can also help you setup your My Business account with Google.
Do you have a YouTube channel?
Yes, it can be found
here
. We will slowly add videos as time permits.
Do you have a Local Guide profile?
Yes, it can be found
here
. We will slowly add more items as time permits.